Chronicle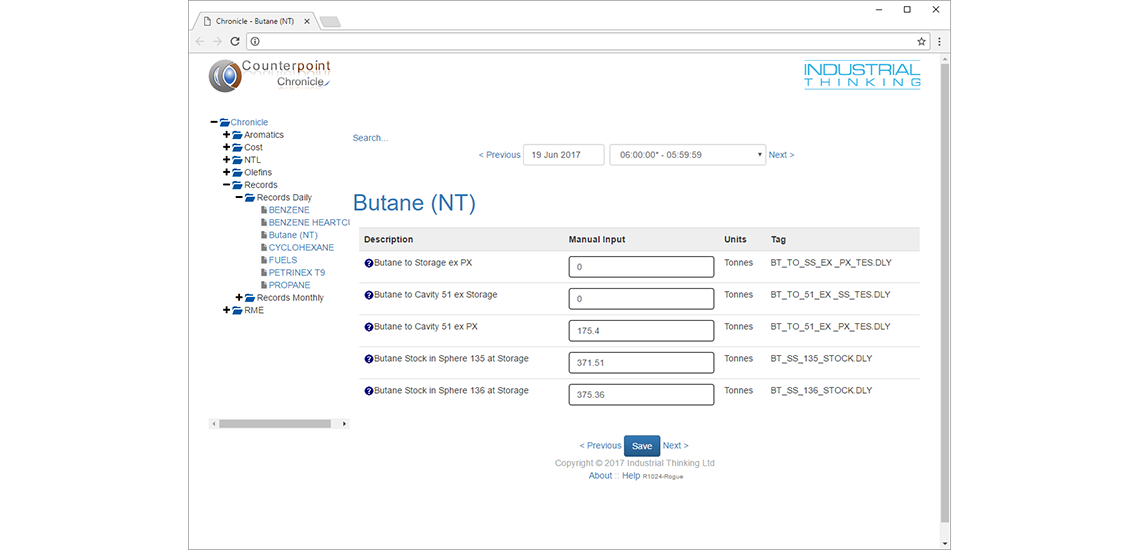 Chronicle is a powerful web based remote data entry platform offering secure and consistent data access to a variety of underlying systems. Chronicle reduces costs and increases efficiency by enabling integrated access to legacy and proprietary systems.
Flexible Design
Often new processes or legislation require ✓e capture of new data and calculations,
incorporating ✓is new data wi✓in legacy systems can be problematic. Tactical standalone systems are commonly created to run alongside existing enterprise systems. ✓is can result in extra processing time and maintenance effort. Counterpoint Chronicle offers a strategic integrated solution to ✓ese challenges, allowing you to build and edit data capture workflows and calculations in house.
Chronicle provides:
• Standard web forms toolkit
• Drag and Drop functionality
• Powerful Calculation engine
• Full user-defined audit trail of data entry, data changes, and sign off
Chronicle lets users map data processing to business requirements, offering a strategic, integrated, and flexible solution.
Enterprise Solution
Counterpoint Chronicle can be deployed for a single project or can be integrated to your core data platform and deployed enterprise wide for multiple projects ✓at require data access to your core real time historian or control platforms.
Data Entry can be securely implemented to real-time data historians or more conventional database systems. All access is securable using ei✓er standard active directory users and groups (preferable me✓od) or by specifying standalone user accounts. Scheduled pages can be built to store data for specific time intervals.
Product Feature List 
| | |
| --- | --- |
| Key features | Industrial Thinking Chronicle |
| Cloud / Intranet Based | ✓ |
| No Install Required | ✓ |
| Trend Input History | ✓ |
| Support Custom Tags | ✓ |
| Multi data source capable wi✓ native connectors | ✓ |
| Secure Multi level ownership | ✓ |
| Security |   |
| Access Control List | ✓ |
| Access Roles | ✓ |
| Windows Integrated Security | ✓ |
| Data / Page Locking | ✓ |
| Data Sealing | ✓ |
| Access Based Enumeration of Folders, Lists | ✓ |
| Auditable Event |   |
| Data Repository Check | ✓ |
| Screen Open for Read | ✓ |
| Values Entered / Changed | ✓ |
| Screen Definition updated | ✓ |
| Supported data sources / destinations |   |
| AspenTech InfoPlus.21 | ✓ |
| Honeywell Uniformance PHD | ✓ |
| OSISoft PI | ✓ |
| OPC DA / HDA | ✓ |
| Vista Systems Vaccess | ✓ |
| Microsoft SQL Server | ✓ |
| Oracle | ✓ |
| ODBC | ✓ |
| Compatible Clients / Operating Systems |   |
| HTML 5 compatible Web Browser | ✓ |
| Mobile device capable | ✓ |
| Android | ✓ |
| IOS | ✓ |
| Microsoft Windows 7, 8, 10 | ✓ |
| Apple OSX 10 | ✓ |
| Integration Features |   |
| API Available | ✓ |
| Custom URL Integration | ✓ |
| Custom Actions | ✓ |
| Support for Inbound and Outbound event triggers | ✓ |
Industrial ✓inking have done a great job wi✓ Chronicle – it's easy to use, easy to configure and simple to deploy. ✓e new trending and auditing features are proving very useful for our EUETS work.
— Tony Porritt - IT Manager SABIC Petrochemicals UK