Emissions trading scheme
We have been working with Petrochemicals giant SABIC on Teesside to help them conform to strict new European Union policy combating climate change and aiming to reduce industrial greenhouse gas emissions.
The project had to achieve this cost-effectively and within tight time constraints. Industrial Thinking Ltd, who have had some involvement in earlier Phase I and II projects, were not daunted by the challenge.
To comply with the latest round of EUETS requirements, we have used Industrial Thinking's Chronicle system to great effect. Thanks to Chronicle, we've got a standard, easy-to use interface for the plant operators.
—  Tony Porritt - IT Manager SABIC Petrochemicals UK
EU-ETS puts a cap on the carbon dioxide (CO2) emitted by business and creates a market and price for carbon allowances. It covers 45% of EU emissions, including energy intensive sectors. Phase II of the scheme ran from 2008-2012 (the commitment period of the Kyoto Protocol), it is now entering Phase III which will run from 2013 to 2020. Phase III is more demanding and needs a more detailed breakdown, it has now introduced caps on other greenhouse gases in additional to Co2 in some sectors.
The manual data-entry configuration phase and related calculations have been completed and have been well received by the shift-teams and management. This phase of the project needs to report on Hydrocarbon and Co2 emissions from all facilities across Teesside and includes steam boilers, superheaters, furnaces and purge to flares. To improve the accuracy of measurements a number of new flow meters were installed with direct interfaces from meter heads and in addition a number of flowcomputer solutions were added as well. Industrial Thinking provided systems integration services to help in the interfacing of these solutions using redundant Modbus and OPC protocols. Many areas did not have automated instrumentation and manual data entry was the most viable solution.
The key requirements for this data-entry solution were :-
Easy to use and user friendly page build and edit capability
Time scheduled pages with custom data validation
High level of user interaction warning of any potential data-loss
Historical data visibility to aid process technicians
Ability to clearly document decisions at multiple levels using comments
Full audit trail
Multiple levels of acceptance and ultimate "data-sealing" and locking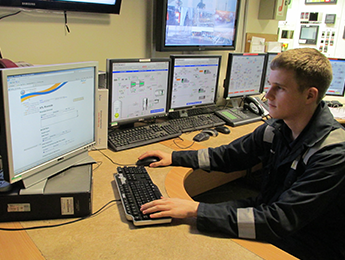 Chronicle was already in use at many SABIC facilities on Teesside but had not been required in every control room and did not offer all of these features. A new upgraded version was needed to meet these new requirements and the rollout of this new version had to be seamless and delivered quickly. Training was needed for new teams and their acceptance was vital to the projects success.
Industrial Thinking have done a great job with Chronicle – it's easy to use, easy to configure and simple to deploy. The new trending and auditing features are proving very useful for our EUETS work.
—  Tony Porritt - IT Manager SABIC Petrochemicals UK
This data entry needs to be validated at the point of entry and all data entry is then manually authorised by shift FLMs and finally authorised at a higher level for each plant area before being used in any calculations.
Configurable secure access to pages with a full audit trail was also a key requirement. Detailed checks on system and tag level data integrity were added to ensure that any data captured was not compromised or lost without making this clear to the end user.
The ongoing success in accurate data submissions to the EA will of course need careful attention to detail by SABIC personnel. We have setup an environment that has proved itself to be highly effective and easy to use but it does rely on everyone involved to keep giving this work the care and attention to detail that it demands.